Romantic B&B with hotel rooms and holiday apartments in Ochsenfurt am Main
Romantic accomodation in Ochsenfurt / Franconia near Würzburg

If you love to live different our GoldGemäuer is what you are looking for.  Our stylish 4* holiday apartments and hotel rooms are decorated  individualy with antiques and franconian decorations - located in an historic building that is partly integrated into the old Ochsenfurt town wall.
Historically our "Goldgemäuer" has been a former blacksmith house (17th/18th century. Especially the old blacksmiths Hall impresses with many historical collectibles, from images and antique furniture to old forging tools.
In the center of the smiths hall there is the long table at which you take the rich breakfast buffet. On warm summer days you can enjoy breakfast in the historic courtyard as well and admire fossils from Franconia. On the 1st level there is also a sun terrace and a winter garden.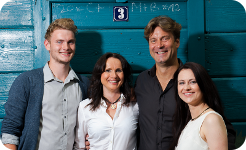 Ochsenfurt is an ideal base for trips to Würzburg, Rothenburg, Sommerhausen, Kitzingen, and others ..
Cyclists are welcome - we offer a covered shelter for your bike. Pilgrims walking the Franconian part of the Way of St. James are also very welcome.
You will find peace and relaxation in a family atmosphere.
Yours
Family Gold